Places To Eat In The Upper Valley
The Upper Valley, located on the western edge of New Hampshire and the eastern edge of Vermont, is well known for its outdoor recreation, it's attractive job opportunities and it's unparalleled hospitality industry. WIth so many incredible restaurants to choose from it's impossible to list them all but if you are coming to visit the area here are a few of our favorites.
The Lake House Tavern
Located on Main St in Hopkinton, NH the Lake House Tavern overlooks Kimball Pond and is a great spot to grab a local craft beer and a burger. Their menu is filled with traditional american cuisine including a phenomenal sandwich selection and entrees that focus on homemade ingredients. Each dish is crafted carefully with flavors that offer a unique but delicious experience such as the coffee and black pepper braised lamb shank with roasted tomato and lemon risotto. The Lake House Tavern is popular with the locals for a reason and you don't take our word for it, just check out this review:
"Lakehouse Tavern is a hidden gem and mandatory stop if you get the chance. As a former bartender of craft cocktails there's no mistaking the attention to detail in their house made ingredients. Creative juxtaposition of ingredients in their entrees like the chutney salmon with curried risotto is top notch. I could go on, but rest assured the varied menu and cocktails will leave you satisfied and wanting more.  Will be returning soon and recommending to friends."
 - Andrew H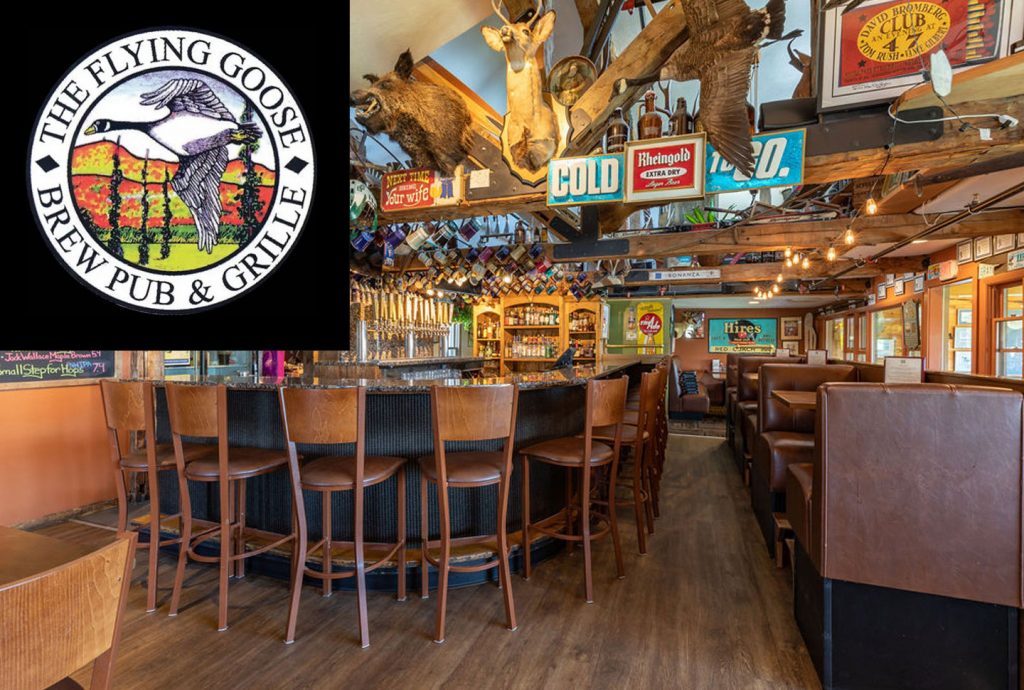 The Flying Goose
Family owned and operated since 1993 The Flying Goose has been an institution of New London for over 25 years. The Flying Goose is right off of I-89 at exit 11, making it a great place to stop when you are visiting or traveling through. Serving traditional american fair with some great seafood options such as the delicious Fish Tacos. They are well known for their famous nachos and after a day on the slopes you can't go wrong with their Southwest Bear Claws Crispy potato skins filled with a hot black bean dip and topped with cheddar cheese and guacamole. The Flying Goose also brews its own delightful and well-known beers, including our favorite, the hazy and hoppy Space Pony NHPA. We think Mark S said it best:
"If you want a great meal, great beers, with great staff, this is the place."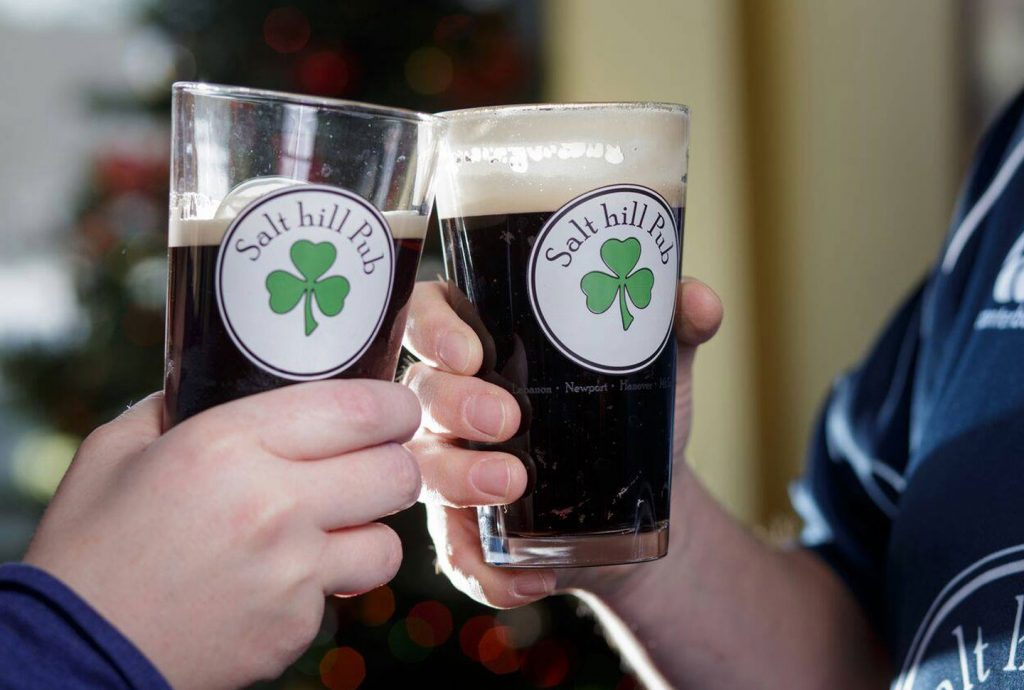 Salt Hill Pub Newport
Salt Hill restaurants are a staple of the Dartmouth-Lake Sunapee Region. With locations in Lebanon, West Lebanon, Newbury and Newport almost everyone in the area has been to one of their fantastic pubs. At the popular Newport location you will find traditional Irish Pub fare and many popular beers. Our favorite meal is the legendary salt hill fish and chips (careful, it's big!) or the Bangers and Mash accompanied with a freshly poured Guinness. But why we really love Salt Hill Newport is because it's so welcoming, the atmosphere is relaxed, the community is friendly and the staff are top notch.
Additionally, if you need an event space, the spacious and beautiful third floor of the Eagle Block building is perfect for up to 125 guests.
"Absolutely love this restaurant! The food is always delicious and they have live entertainment. Last time I went was Saint Patrick's Day and they had some gentlemen in kilts playing bagpipes. I drank Guinness and ate the fried fish which was delicious but nothing can ever beat their pulled pork nachos, best around!"
 -Jenn W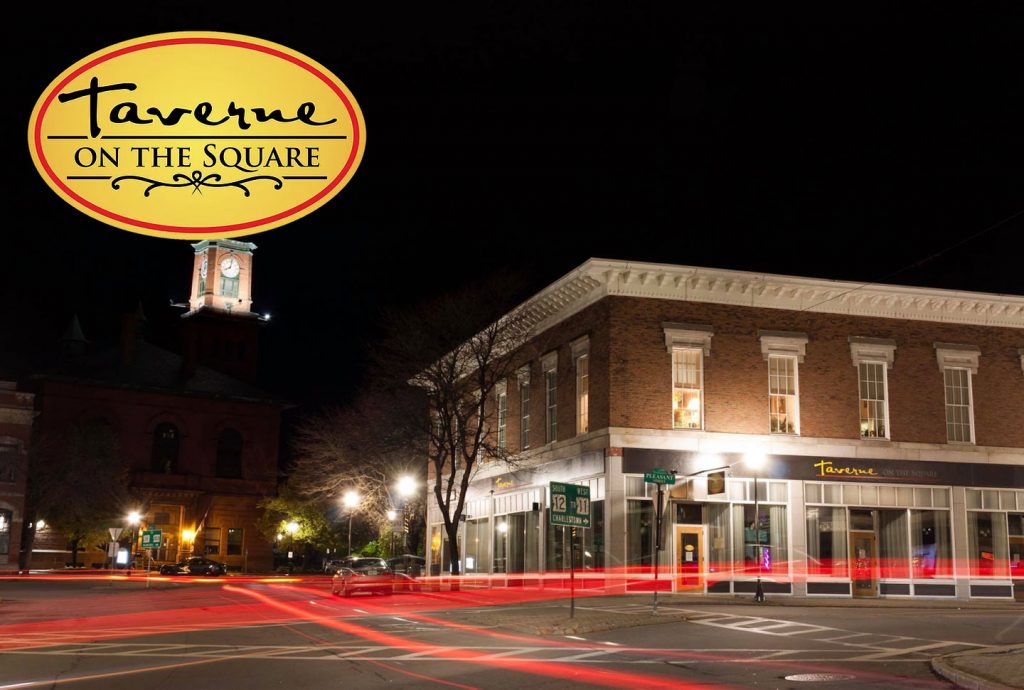 Taverne on the Square
Located in historic downtown Claremont, Taverne on the Square is a full-service restaurant and bar offering American cuisine with a French flair. With 16 delicious beers on tap and a full bar the Taverne is a family friendly restaurant perfect for a business meeting or a night on the town. They have incredible homemade appetizers and entrees as well as hand-crafted flatbreads and mouth-watering burgers. Oh and don't skip the award-winning Chocolate Decadence cake!
"Was a wonderful lunch, the food was sensational and the service was just as wonderful.  I have been there 4 times now and every time I've never been disappointed."
 -Nancy M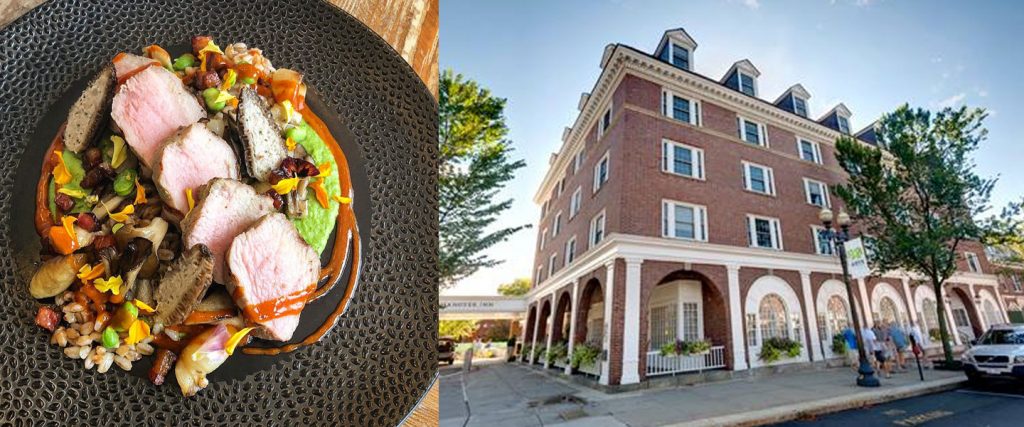 Pine
Located inside the Hanover Inn, on the campus of Dartmouth College, in Hanover, NH, PINE restaurant features "approachable, well-executed dishes that focus on local and sustainable New England products." What we enjoy most about Pine is it's innovative cocktails and upscale ambience. Pine really fits the vibe of an Ivy League campus and the food is top notch; it is a favorite of locals on a "date-night" as well as the many visitors to the Dartmouth campus. The diverse menu changes frequently but we loved the spicy pork belly steam bun and the diver scallops with shrimp & chive ravioli. With a fireplace burning in the center of the dining room Pine is a restaurant where you feel like you want to stay awhile.
"Best dining experience in North America. The server, chef and sous chef went above and beyond to craft the perfect vegan appetizers, entrees and desserts. I can't recommend this place highly enough. A true gem in the Upper Valley. One we will be revisiting. Most non vegan restaurants will tolerate you asking for changes in the best case scenario, these folks welcomed us and their passion for the culinary arts and hospitality is something to behold."
 -Nick C.